The combination of lemon, garlic, red pepper, cumin, oregano, and black pepper cooked with tender, juicy chicken thighs makes this a weekly sometimes bi-weekly tradition. It's quick, easy, and most of all, it is absolutely delicious. You can certainly use chicken breast, however, I prefer chicken thighs.
This is Arabic inspired dish. After living over 16 years in the Middle East, Shish Tawook become my weekly meal. I learned to make Shish Tawook but I had two recipes: one from Lebanon, and the other from Kuwait. Let's say my version is a happy compromise between the two recipes.
Besides having an intense flavor because the thighs are "the dark meat," the dark meat is also great for the Keto diet since about 70%-75% of your macros are fat.
Marinate in a bag instead of a bowl.
I start with marinating the chicken thighs in a bag, for at least four hours. Ideally, you want to do this overnight in the refrigerator. But if you forget, take the chicken out of the refrigerator right when you come home from work. Start your marination process and let it sit for one hour. The 1 hour is better than no marination.
Using a resealable bag, add the lemon juice, olive oil, red pepper, black pepper, salt, garlic, oregano, and cumin powder; remove the air, and marinate for at least 4 hours or overnight in the refrigerator.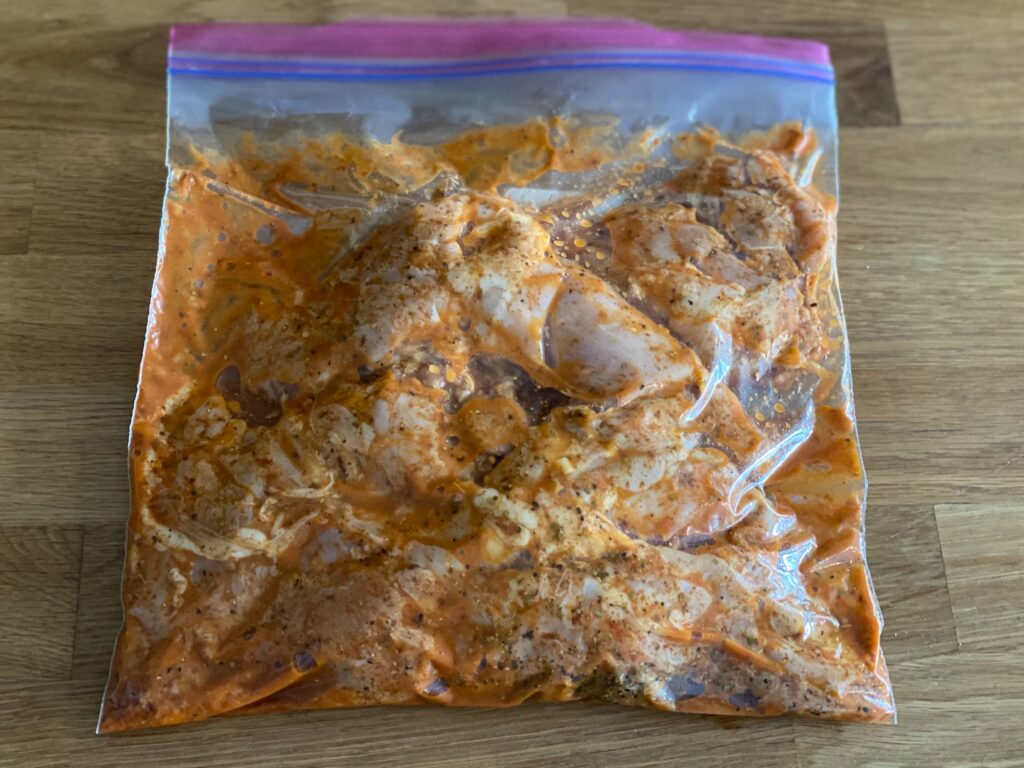 Remove it from the refrigerator 30 minutes before you cook, and let it come to room temperature.
After two hours, remove it from the bag, and lay the chicken thighs on a baking sheet. You can line your baking sheet with parchment paper or aluminum foil if you want an easy clean-up after you are done cooking.