Walnut cake is a delicious Greek dessert that can be made with Chocolate Ganache or without. Karidopita is a Greek compound word made from Karidia (walnuts) and Pita (Greek pie), thus Karidopita. It is a dessert that is in the family of "Syropiasta" which basically means, they are bathed in syrup. There are other pies or cakes similar to this made from Yogurt or almonds, and these too are bathed in syrup.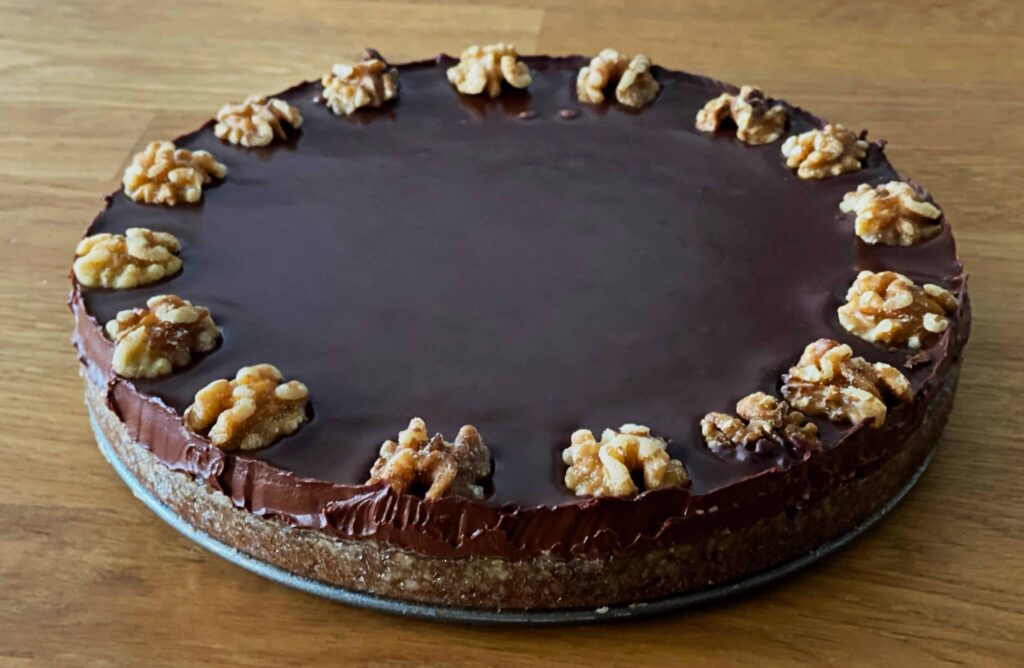 In the low-carb world, it is difficult to replicate real syrup so on a trial and error basis, you must experiment until you find the right combination. For example, if you use only Erythritol, then the low-carb sweetener will crystalize once the cake cools. It's not bad and certainly adds a unique texture, but this is not how Karidopita feels when you eat it.
Try a Monk Fruit sweetener and even though that is mixed with Erythritol, the crystallization is not as bad. You can also use Stevia that is mixed with Erythritol; you can use Allulose to really minimize the crystallization. Finally, you may need to add 1/8 of a teaspoon of Xanthum gum to your Syrup, in order to achieve a thick syrup along with an optional tablespoon of Honey flavored Allulose syrup.
In this syrup recipe, I also combined regular monk fruit and golden monk fruit to give it that dark golden color along with a cinnamon stick and orange peel. You can use lemon zest, although the original recipe calls for orange zest. Of course, you can omit this entirely and make the syrup without any kind of zest. This is truly a low-carb cake that you will enjoy.
This cake can be made with or without the chocolate ganache. The best ratio to make ganache is 1:1, so if you will use 1/2 cup of chocolate, then use 1/2 cup of heavy cream. In this recipe today, I used 3/4 cup Lily's dark chocolate baking chips and 3/4 cups of organic heavy cream.
After you add the chocolate ganache, wait until it sets. I usually wait for 1 hour and then dig right in. There is nothing better in life than having a piece of cake with a nice cup of Greek coffee; or whatever coffee you prefer.