I couldn't wait for the fall and winter mushroom season when my grandfather would forage through the forests of Lesvos Island looking for mushrooms for my grandmother; she loved them, and so do I.
I have lived in many cold climates including Boise, Idaho, Minneapolis, Minnesota, and now Chicago, Illinois. In the winter, and especially during "snow" days, I can't help but crave a warm bowl of soup.
This cream of mushroom keto version uses a variety of mushrooms and organic heavy cream. The more varieties of mushrooms you use, the better the flavor in my opinion, especially if you are a mushroom lover. If you are not so crazy for a strong mushroom flavor, then stick to one variety.
Instead of flour, I use organic heavy cream to thicken this version of cream of mushroom soup. I also use chicken stock, but you could use mushroom or vegetable stock instead. Olive oil, fresh butter, white wine, shallots, garlic cloves, spring onions, and fresh thyme leaves all make this mushroom soup thick, rich and velvety.
The secret to this recipe, aside from using heavy cream, involves using an immersion blender. This is my best friend in my keto lifestyle because it is quick and easy to use. Instead of transferring ingredients to the food processor or blender, I can easily plug in my immersion blender place it directly into the cooked ingredients and puree away.
The one I use is made by Kitchen Aid and I absolutely love it. I know there are other brands out there, but this one seems to do the trick for me.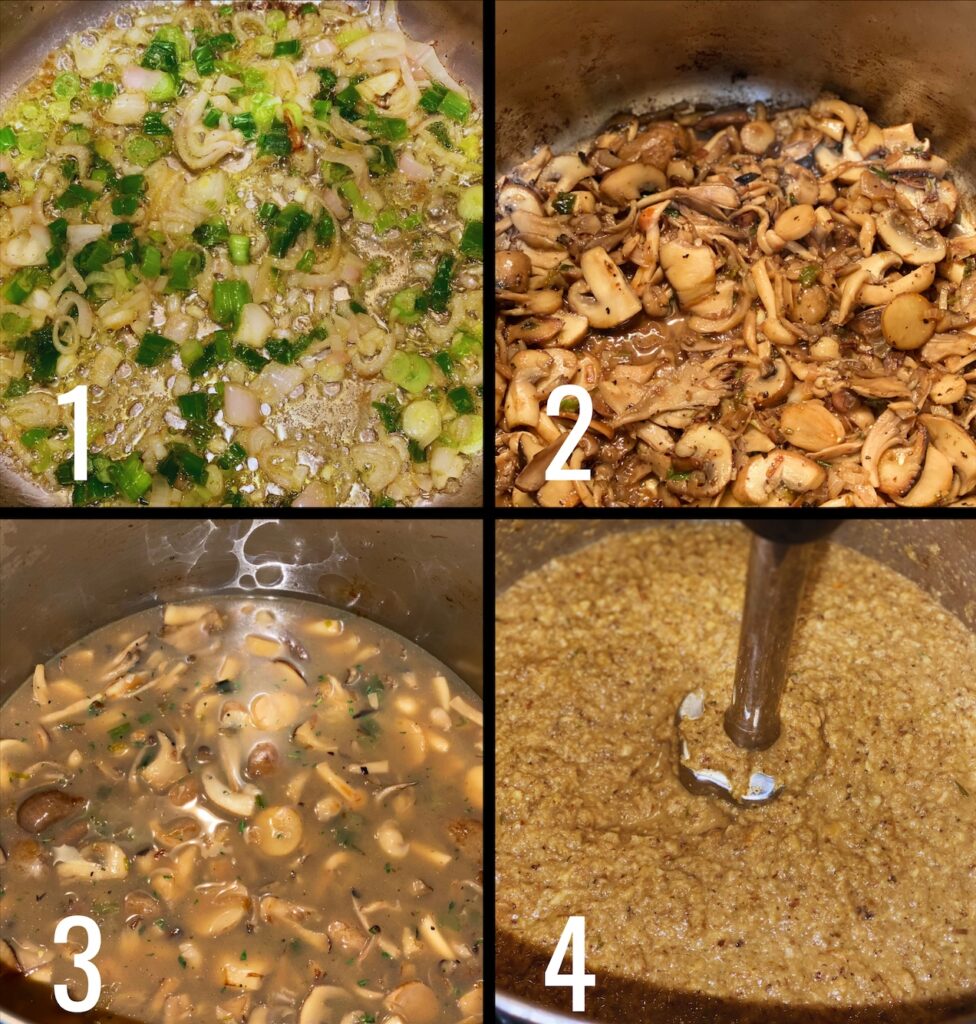 In a Dutch Oven, heat your olive oil and butter, and then add your shallot and green onions. Sauté for 5 minutes. Add your minced garlic and saute for another 1 minute.
Add your mushrooms and continue to cook for 10 minutes or until they are browned. Now, add your white wine and stir for 1 minute.
Add your chicken stock, minced thyme leaves, salt, and black pepper, and bring to a boil. Reduce the heat and simmer for 15 minutes.
Insert the immersion blender into the soup and begin blending. Continue blending until you reach the desired texture. The longer you blend, the smooth and creamier it will become.