During the Ottoman times, this practice of wrapping food in parchment paper goes back to Greek history. The Kleftiko dish is over 500 years old which arose out of need. In the Greek War of Independence, which spanned from 1821 to 1832, the Greeks fought the Ottoman Empire. During this time period, a group of bandits known as "klephts" developed a reputation for fighting the occupying Turks in Robin Hood-style battles. In order to hide, it was out of necessity that they used this cooking method to avoid being discovered. By placing their food in parchment paper and cooking it in underground pits, no smell of food or smoke would be detected.
This parcel combines lamb, (or beef) mixed with herbs, vegetables, and cheese to create an all-in-one meal. It makes a great presentation when entertaining and is delicious because all the flavors steam together to create a scrumptious meal.
There are two parts to this recipe. The first stage cooks the lamb. The second stage combines the meat and vegetables and steams them in a parchment paper parcel.
There are two methods of the first stage of cooking the lamb. You can either do it on the stovetop, or you can do it in your Crockpot or Instant Pot. This way, all you must do when you come after work, is assemble the parcel and bake it.
Just throw all the ingredients for Step 1 into your Crockpot or Instant Pot:
The recipe instructions below also show you how to complete this on the stovetop. Whether you cook the meat on the stovetop, or you use the Crockpot, you will still have to cool down your meat and prepare parchment paper parcels in order to bake them in the oven.
How to make parchment paper parcels:
This type of cooking in France is called "en papillote," translating to "enveloped in paper;" the parcel holds in the moisture to steam the food. Place your meat and vegetable mixture in the center of the parchment paper sheet and follow these easy steps:
Place the mixture in the middle, and gather the parchment's sides, keeping the ingredients inside.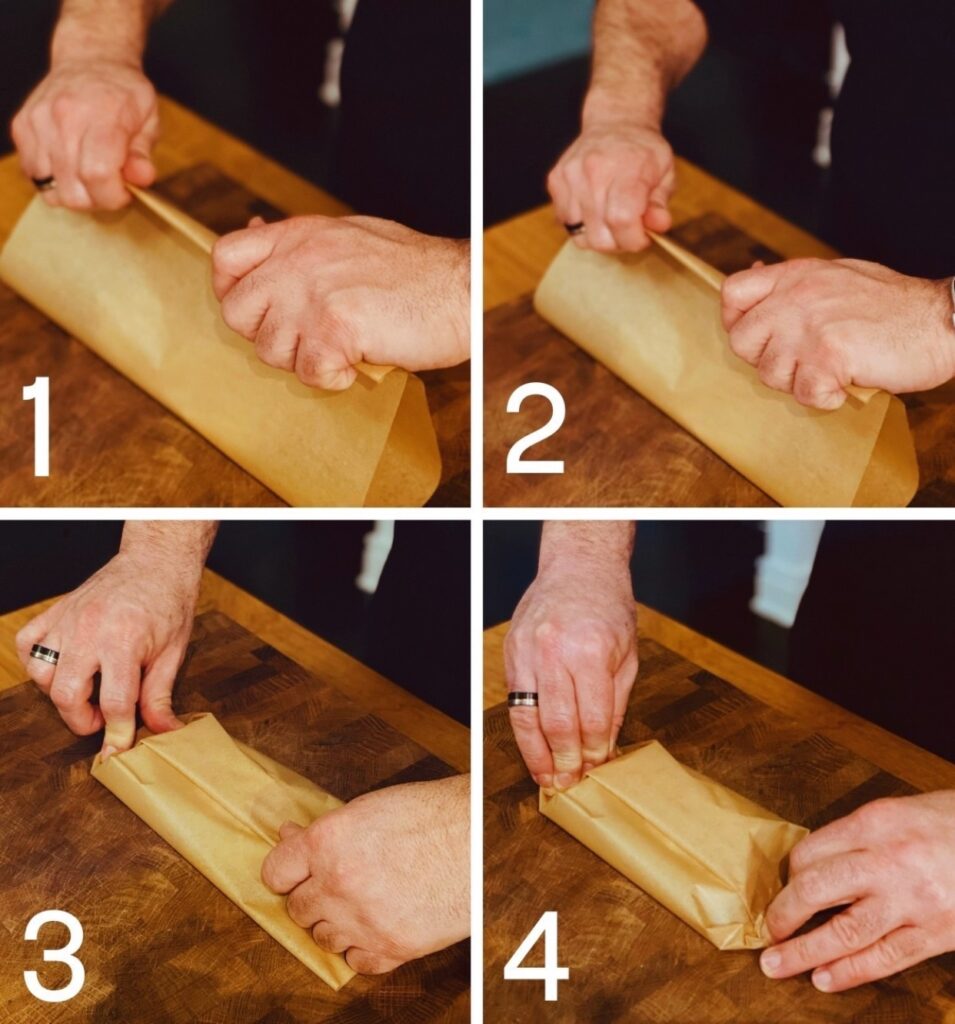 Starting at the top of the parchment and fold over once.
Continue folding the paper down until you are about an inch from the ingredients. This will allow enough space for the food to steam.
Fold the sides of the parcel in tightly.
Crimp the edges of the packet securely to ensure that it fully closes.
Don't overfill your parcel. It's easy to fill your package to the brim with wonderful meat and vegetables, so if you discover it's overflowing, toss it out.